Adobe Photoshop Cc- Retouching Masterclass
Government Certification
The course will teach you the art of editing beauty and glamour portraits. So, if you are interested in seeing what we have written in action, go ahead and watch some previews!
Buy Now
In collaboration with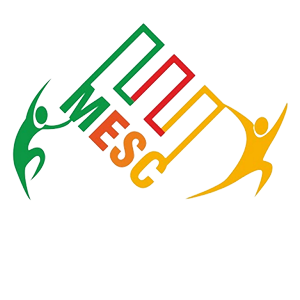 Certificate of Completion
Adobe Photoshop Cc- Retouching Masterclass Course Overview
Course Description
We will teach you the best techniques which need minimal effort yet offer maximum results. All lessons focus on getting the job done in a lesser amount of time. You will also learn some amazing tricks to enhance the background or remove people from the images when required! The course will further dive into the latest technological trends so that you can learn how to transform even a low-resolution image into a high-resolution one.
You will learn how to choose and work with different types of tools for achieving specific results such as eye colour, equalising skin tones, adding hair volume, high-end skin retouching, white balance & so much more. You will also learn to create custom actions that will help in retouching several photos in less time so that you can freely focus on creative aspects and keep enhancing your retouching skills.
Key Features
Learn the most sought-after techniques used in commercial editing like: Color correction, HDR merge, compositing & more.
Removing unwanted objects with the help of artificial intelligence
Create custom action to edit multiple photos within single click
HDR merge technique to get best results in tricky lighting condition
Tricks for fixing cloth wrinkles for your next master shot
Understanding curves for achieving true colors in your image
Utility of selection tools to deliver a specific effect viz: changing eye color, adding hair volume and much more..
All the training sessions are precise and to the point.
Earn a certified
Photography qualification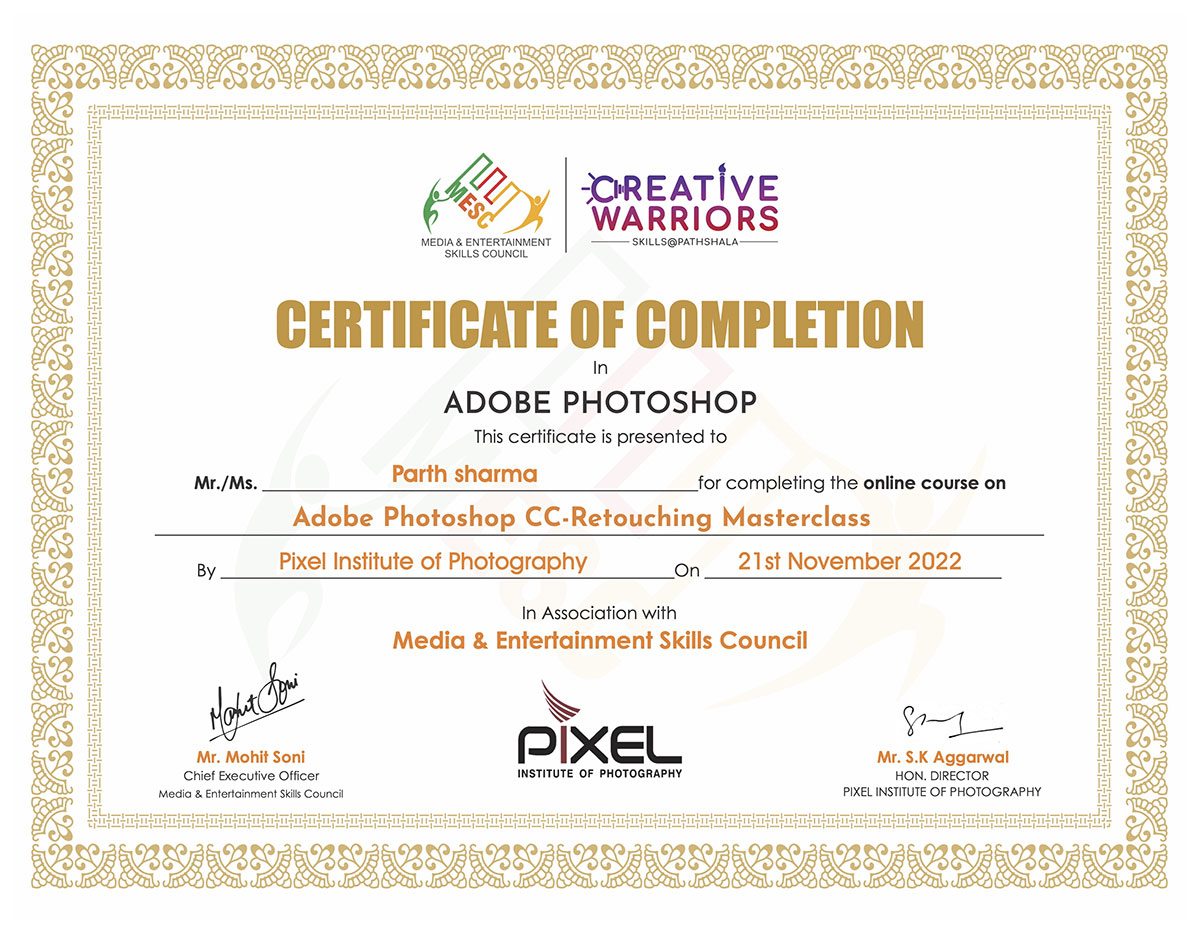 To obtain the online photoshop course certification, you must secure at least 60% in the quiz conducted during the online course.
The certificate will be issued within 30 days from the date the participant successfully completes the online quiz.
Adobe Photoshop Cc- Retouching Masterclass Course Curriculum
Requirements
You need Adobe Photoshop, if possible, the latest version CC.
There is no need to have prior knowledge or experience with Photoshop.
This course includes:
6 Hours on-demand video
38 Lessons
6 Months Access
Access on mobile and TV
Assessment
Certificate of completion
All Levels
Certified
Learning Path
Overview Of Photoshop Interface
Setting Essential Preferences
Overview Of Selections Tools
Preview
Magic Wand Selection & Lasso Tool
White Balance in Camera Raw
Background Replacement Auto
Enhance Body Language with Puppet Tool
Placing Text Behind the Image
Removing Unwanted Objects
Online Certificate
This course includes:
6 Hours on-demand video
38 Lessons
6 Months Access
Access on mobile and TV
Assessment
Certificate of completion
All Levels
Certified
Styles Of Photography You Will Learn
Color Grading
Skin Smoothening
Compositing
Image resize & Watermark
Changing Hair Color
Color Gel Lighting
Creating Artificial Bokeh
Stitching Panoramas
And more!
Techniques To Create Extraordinary Images
With the advancement of A.I in image editing, subscribing to the latest version of Adobe Photoshop will be very helpful.
Shoot in RAW file format for greater flexibility & better results in image editing.
Aim for at least a quad-core, 3 GHz CPU, 8 GB of RAM, a small SSD that can handle most Photoshop needs.
A 4K screen resolution is best for professionals, but Full HD (FHD/1080p) should suit most other users.
Practice & lots of practice will help you become an efficient & effective photoshop editor.
Adobe Photoshop Cc- Retouching Masterclass Learner Reviews
Neha Garg
I am a makeup artist and I have been struggling to get the perfect look for some of my clients. With this course, I managed to create a beautiful face with a variety of tools & techniques. It was a lot easier than I thought.
Sheetal gupta
This course saved my time as I learnt the nuances of photoshop without any wastage of time. There is no repetition or beating around the bush. The exercise files can be easily downloaded and practiced along with videos.
Sanju dahiya
The lessons on HDR merging & watermark actions were very useful, & explanation in hindi language does help and the instructor voice is also kind of sweet😁, it was a pleasure learning from Pixel photography!

Rahul lamba
The topics in module 4 & 5 helped me a lot to learn the retouching techniques that need minimum effort and offer optimum results. The sessions have helped me learn how to edit the images in the least possible time.

Vedansh Ahlawat
Great course. Loads of content, helped me learn new processes as well as refine old ones. I have to use a PC for work, so it was nice to display the keyboard shortcuts for both Mac's & PC's. BTW: Great teacher with great voice over😄

Ashok verma
Really enjoyed taking the course :) PS is definitely more than a hobby for me now, I'm glad it also covered the 'digital art' section of Photoshop like making composites, blending images & custom actions.

Ashwani pandey
This is my first photoshop course in Hindi and I'm loving it also the videos are nice and easy to follow offers lots of info. I'm looking forward to put all i have learnt to practice & All of this makes this PS course a great one!
Nasir ali
I have experience in using Adobe Photoshop and I really liked the way this course teaches you the basics. It is very beginner-friendly and will teach you how to do a lot of things without making the process complicated.
Frequently Asked Questions
Yes, you will receive a certificate after completing the course in collaboration with Media & Entertainment Skills Council.
Our course is exclusively designed for beginners who are not well-versed in using photoshop software to help overcome the challenges that fashion and portrait photographers often face. We'll show you how to use the best methods that produce the best outcomes with the least amount of work. Every lesson emphasizes doing the task in less time and the course equips you with the most in demand retouching techniques.
Yes, all our photography courses can be learned in the Hindi language for the convenience of students without any language barriers.
No, you don't need any special type of device. It can be accessed from any device, whether Windows or Mac, and you can access it from any Smartphone or tablet using any browser. 
Yes, we have a subscription period which is six months from the subscription date.
Pixel follows a systematic teaching approach which will be satisfying and helpful. We focus on training students with practical examples, graphic illustrations, and motion graphics. Once you complete the course, you can apply the concept with ease with respect to your images. It can help create an excellent and appealing portfolio that can give a great start to your photography career. 
Pixel offers both online and offline photography courses. Our offline still photography program is certified by the National Skill Development Corporation of India- NSDC.
No, there is no refund policy. It is better to understand the terms and conditions before enrolling and making the payment to make an informed decision.
The course offers education and entertainment to keep the students engaged in a photography course. It motivates learning more and getting deeper insights so that all the photography concepts are covered. Our course is unlike a conventional online course where everything is just theory.
There are no restrictions, and you can view the classes as often as possible until you have access to them.
The online classes can only be streamed with the help of an internet connection. You don't have the option to download because of copyright reasons.
You will have access to classes for a maximum of 6 months from the date of enrolment in the course.
You need an internet connection and any device such as a computer, laptop, tablet, Smartphone, etc. You will also need earphones or speakers for listening to the online classes.
Upon securing at least 60% in the quiz conducted during the online course, the participant will be eligible to receive the certificate.
The certificate will be issued within 30 days from the date the participant successfully completes the online quiz.