Integrated Professional Photography Course
Pixel Certification
This professional photography course is for the beginner photographers who want to have a
practical understanding of applying photography concepts in real life and shoot beautiful images.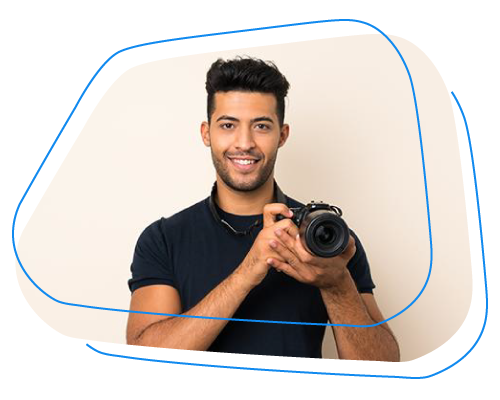 Apply Now
EMI Starting at
₹ 12,100/month
Total Program Fee
₹ 48,400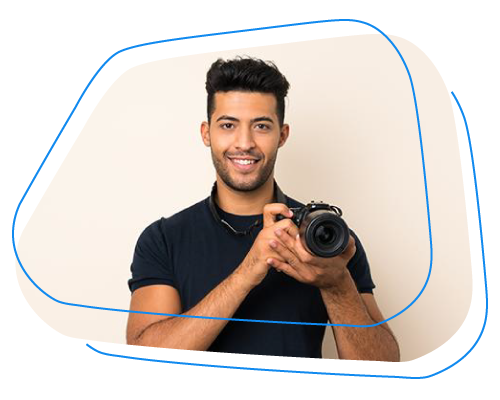 Next Batch starts: June, 2023
Limited no. of seats available
Program Duration: 3 months
At 6-8 hours/week
Offline Bootcamp
Learning Format
Integrated Professional Photography Course Overview
As one of the best photography courses, the curriculum will follow a systematic
learning approach starting with understanding your camera settings, right selection
of camera gears & accessories, principles to compose a shot & lighting a scene &
we'll wrap up by giving you the knowledge of essential tools required for image
editing.
Key Features
You'll be able to create a fascinating portfolio which will help you to kick start your photography career.
Be able to shoot the image with correct exposure by identifying pixel data information using histogram.
Know the appropriate selection of right camera gear & accessories as per your budget
Capable to shoot a beautiful portrait of a person with the shot composition, light understanding & body language
Apply retouching techniques for a variety of purpose including color correction, adjusting image exposure, HDR imaging and much more.
Practical knowledge of product shoot with respect to lighting, framing & props to make them look appealing.
Earn a certified
Photography qualification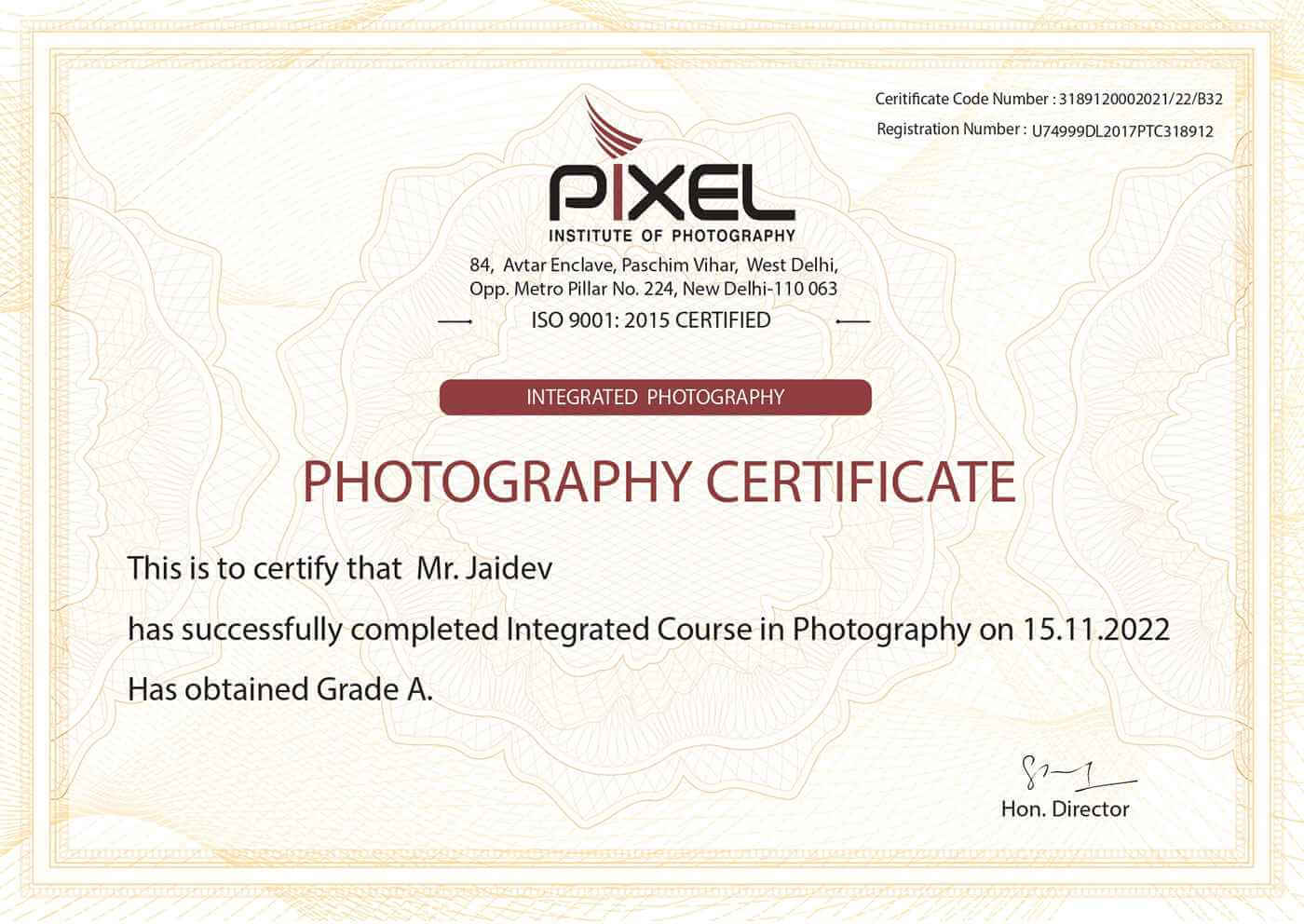 To get an integrated photography course certification, you need to complete & submit the assessments being conducted during the course duration.
Integrated Professional Photography Course Curriculum
Eligibility
Who can apply?
To be eligible for this Delhi photography course, a person should have valid 10th or 12th Passing certificate with an average of 50% or higher marks.
Learning Path
Week 1 – Step Out from Auto Mode & Master Exposure Triangle
Become familiar with your Mirrorless camera settings & Exposure Triangle (Aperture, Shutter speed & ISO) along with camera settings for capturing smooth action & images that communicate with the viewers.
Week 2- Understanding White Balance, Histogram & Metering Modes
Start shooting like a pro with the understanding of setting correct white balance & reading histogram, understanding the depth of field & selecting the right metering mode as per the given situation
Week 3. – Introduction to Camera Lens & Accessories
Get thorough understanding of different types of camera lens- Here you'll also explore the right lens for fashion, wedding & advertising work along with camera accessories available in the market like camera flash, lens hood, Reflectors & filters.
Week 4- Composition & It's Understanding
Develop your viewpoint & perspective- Here you'll learn the rules of composition, ideas & tips on composing your frame & lighting a scene. Following that you'll also get knowledge of using studio lights & modifiers which will help prepare you for your upcoming studio practical.
Week 5- Portrait Photography & Posing Style
Introduction to portrait photography: The concepts learnt so far will be put to use in capturing stunning portraits with light setup along with the understanding of body language to make your subject look confident & communicative.
Week 6 – Introduction to Product Photography & It's Type
Introduction to product photography: This session will equip you with the basic understanding before shooting a product with respect to framing, lighting, composition & using a prop if necessary.
Week 7 - Studio Practical on Product Photography
Get live experience on product shoots like shoes, perfume & bottles with reflective & non reflective surface. You'll also understand the utility of props to make your products look attractive for commercial & advertising purpose.
Week 8- Photo Review Session
This week, our professional photography course will help you grow as a photographer by identifying your mistakes with respect to the photos captured so far, you'll also get the opportunity to clear your doubts to make sure your fundamentals are thoroughly cleared.
Week 9- Introduction to Adobe Photoshop
Introduction to Photoshop- You'll learn to navigate the workspace & the utility of essential tools along with the purpose they're being used for managing image exposure, brightness, contrast & much more.
Week 10- Correcting & Enhancing Digital Photographs
You'll learn the basics of color corrections using Camera RAW, background removal techniques, straightening & cropping the image in photoshop and the use of content aware fill.
Week 11- Working with Selection Tools & Special Effects
As the best photography institute in Delhi, we'll help you understand the importance of selection tools, processing files in camera raw, adding color gel lighting effect & managing depth of field to effectively manipulate your images to make them look beautiful.
Week 12- Creating HDR Images & Hi- Resolution Panoramas
You'll learn the importance of applying HDR imaging, stitching panoramas, adding watermark to your image & specifying color management settings for print.
Pixel Certification
Download Brochure
Pixel Advantage
Systematic learning approach wherein theoretical & practical exercises are well coordinated for conceptual clarity.
Field industry experts that strive to provide the best quality education in the field of digital photography
Classrooms equipped with HD audio visual set up with limited seating capacity to provide quality education with individual attention.
With the plethora of studio equipment and accessories available mastering the art of photography concepts couldn't be easier.
Opportunity to interact with your photography mentors for career guidance in your chosen area of photography
"Pixel Academy had been the ideal choice when I was in a fix to change track in my Photography career."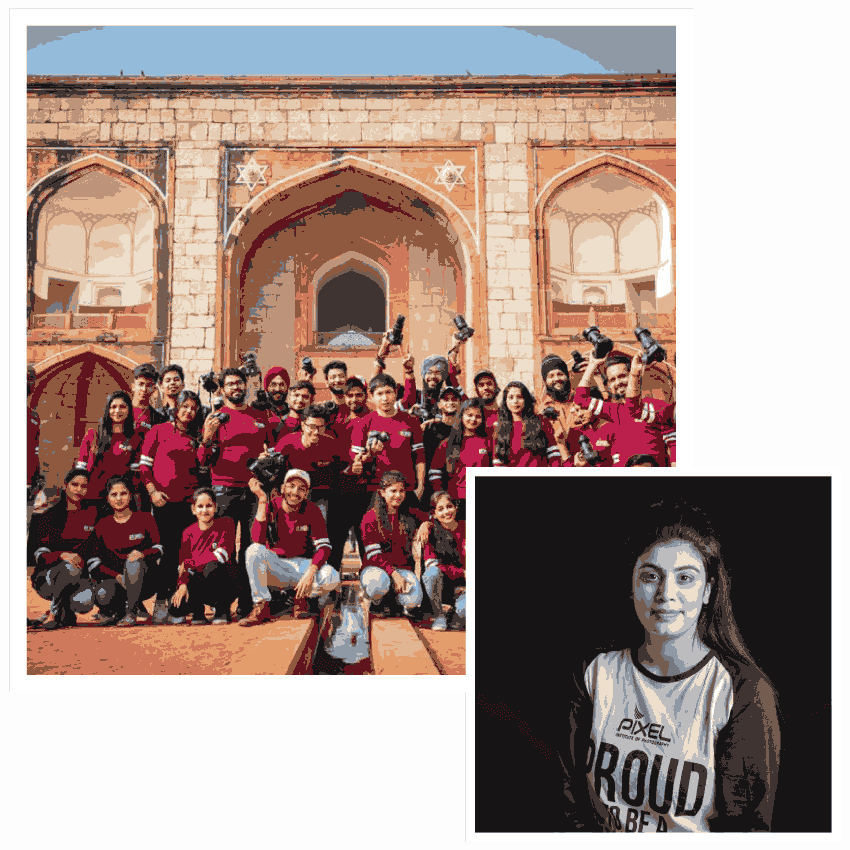 Bhawana R
Program Fees
Starting at ₹ 12,100/month
Program Fee: ₹ 48,400
Apply Now
EMI Partners
Loan Amount: ₹ 36,300
Admission Fees (payable on enrolment): ₹ 12,100
Loan Amount: ₹ 48,400
Admission Fees (payable on enrolment): ₹ 12,100
Total Fee Payment
₹ 48,400
Next Batch Start
June 2023 batch
Limited Seats left
1

Regular Classes
June 2023 - August 2023
11:00 AM - 1:00 PM
Weekend
Got questions regarding upcoming cohort dates?
Frequently Asked Questions
This program is meant for beginner & budding photographers who are aspiring to transform their passion into part time career in photography. The whole structure of the course aims at polishing each participant's skills through live assignments and practical illustrations. The prospects of this course are promising in the field of advertising, events and shooting professional portraits.
Our tutors are qualified with training expertise and years of experience in their respective fields also they are recruited after a rigorous selection process. Each instructor is chosen after profile screening, technical evaluation, and a training demo before they are hired as certified trainers with us. We also follow a feedback process wherein we evaluate the trainers.
To apply for the course, one needs to submit his/her 10th passing certificate & a valid identification proof (Aadhaar Card/Driving License).
In this era of digitization, the sky is the world regarding career opportunities for photographers. You can work in various fields with a certificate and a passion for photography. You can also become a portrait photographer for weddings or corporate events. Commercial photographers are one of the most sought-after photographers for marketing. There is also an option of becoming a freelance photographer & if you are inclined to start something of your own, you might consider starting your business in the future.
To ensure that no one is denied entry into this integrated photography certification program for financial reasons, we offer EMI options to help learners with the fee payment. The financing details can be accessed in the Admissions Fee and Financing section of the website.
The important factors that give us an edge over others are highly experienced trainers, government certification, high-end studio set-up, and top infrastructural facilities. We follow a practical approach and offer individual attention to our students in the institute. We try to make education fun for the students by providing them with sufficient opportunities for growth.
The students must have a DSLR/ Mirrorless camera during the training program. The rest of the things will be taken care of by the institute.
We only have limited backup classes for our students. If students have genuine reasons for missing the class and submit a request paper in advance, they can get access to a backup class.
There is no need to buy a specific model of the camera, any DSLR/Mirrorless Camera will fulfil the purpose to learn photography
No, but we help our outstation students with respect to the accommodation options available nearby the location of our training academy.
To get an integrated photography course certification, you need to complete & submit the assessments being conducted during the course duration.